100% Handmade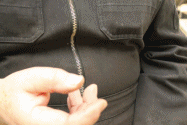 Unique copper jewelery –
Unusual copper bracelets
We do it all in copper. All our copper bracelets are solid and handmade. And we love copper, an ancient metal used since thousands of Years for decorative copper jewelery as well as for therapeutic agents. Cultures around the world believed and still believe in beneficial effects of copper jewelery on the body…- and we use this very copper for our handmade copper bracelets.
Worldwide free shipping
All our copper bracelets are completely handmade in Munich – Germany. No industrial manufacturing. Individual proceeding of Your copper jewelery.
Pay with PayPal. Pay by invoice.
Handmade in Germany. Our copper is purchased from reputable suppliers in Germany, thus we can garantee the Quality of the copper bracelets we make.
Solid Copper Bracelets, thus only copper to Your skin.
We make Your copper bracelet to fit You… Our copper bracelets come in 16 standard sizes. And yet any special sizes welcome, no surcharge!
We are fast in our Delivery, usually we need some 3-5 working days for the production of Your copper bracelet. Time of shipment depends on the carrier.
Express Delivery of our copper jewelery is Possible, enquire Surcharge. Delivery to US about 3 days. Australia about 5 days. Singapure about 8 days. Canada about 4 days.
Gift-Packaging is possible
Refund or Returns or Exchange of our copper jewelery is no problem, even if traces of usage.
Special Wishes ? We do our utmost to please You.
Contact us
phone +49 89 39 29 73 50
phone +1 315 505 4405
Fax +49 89 39 29 73 49
mail: info@copper4you.com